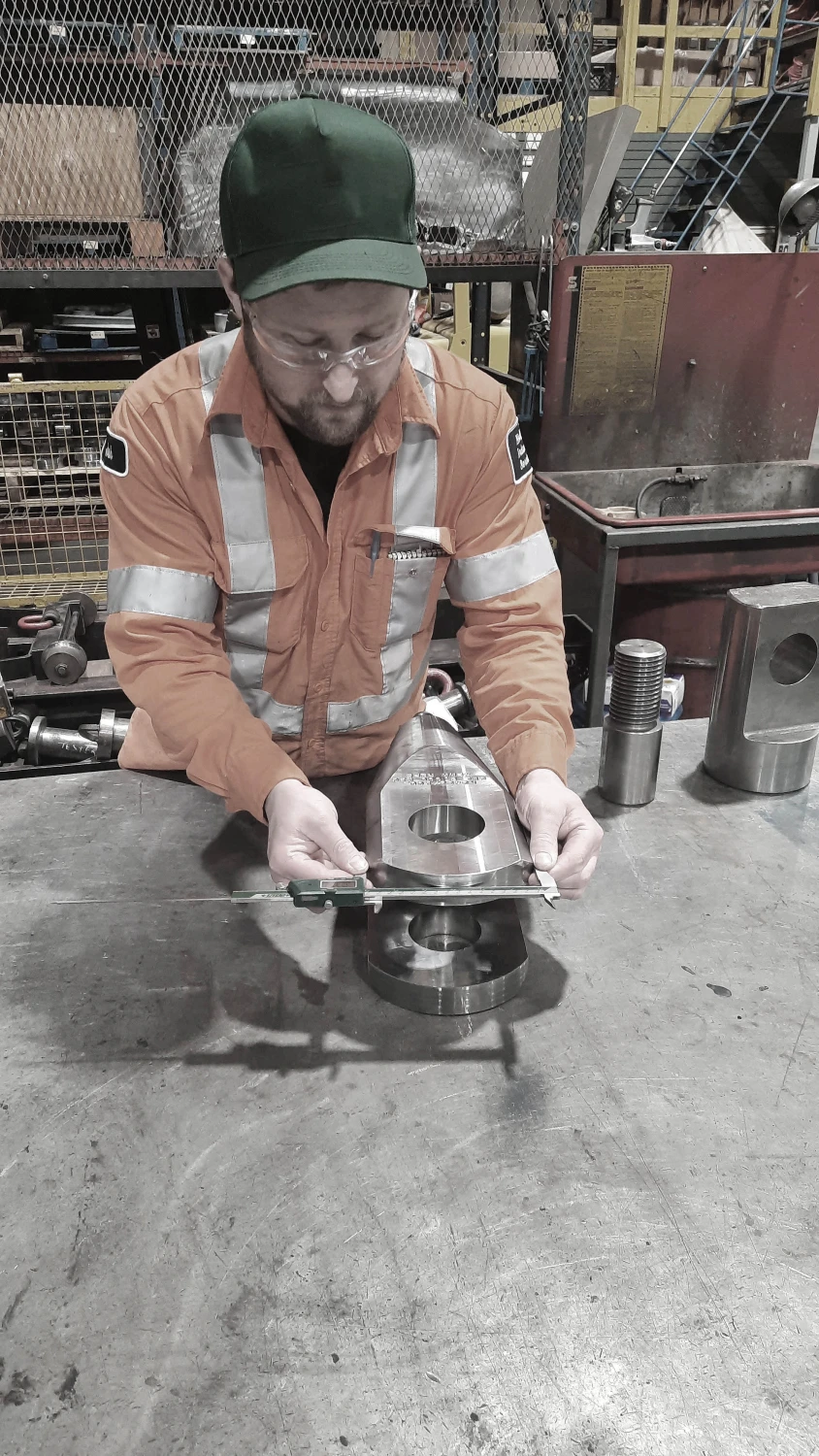 Technical Services
Inspection & Overhaul
Rope Attachment Inspection
& Re-certification Service
The service includes:
De-greasing, cleaning & shot blasting.
Visual & dimensional examination in accordance with product drawings, work instructions, UK national Coal Board standards or international standards as appropriate.
Magnetic particle examination by Level II qualified inspectors -in accordance with NCB specifications. All MPI equipment is calibrated.
Ultrasonic testing for any components which require replacement.
Proof load testing as required.
Design & engineering support as required.
The Importance of Regular Inspection
Rope attachments are subject to varying degrees of corrosion and wear depending on shaft conditions and workload so regular inspection of attachments is essential and is a regulatory requirement in most countries. It is important to recognize that if problems go unnoticed and repair and maintenance measures are not taken an attachment can fail. To help maintain the highest possible level of equipment safety RBD recommends that the owner-operator makes a thorough visual inspection of their attachments on a regular basis.
RBD is an industry leader in analyzing the performance of rope attachments in variable working conditions. We are experts in identifying potential problems with mechanical wear, corrosion and adverse fatigue conditions in attachments.
Traceability
100% traceability is essential for mine rope attachments and is law is many jurisdictions. Reliance Barker Davies maintains a detailed archive of all components which are manufactured and overhauled. This has allowed us to compile extensive historic information which is essential for the study of general attachment performance. All RBD attachments can be traced by their unique serial number (stamped on each component) and from the original certificate of manufacture.
Inspection & Technical Consultation
All equipment should be sent to Reliance Barker Davies for inspection, overhaul and recertification. Our rigorous inspection methods allow us to determine if a component is fit for continued use. The inspection/overhaul frequency shall be determined solely by the owner: this frequency should be determined based on several factors including:
Number of cycles.
Wet or dry shaft.
Corrosive and acidic properties of the shaft environment.
Condition of paint or outer protective layer.
Wear / damage.


Customers participating in the Inspection & Re-Certification program receive a report giving details of the findings of the RBD examination and if necessary, any recommendations for repair & maintenance. RBD inspectors are certified to at least CGSB Level II and follow procedures developed by RBD for each type of attachment. If you would like further information about of the Inspection & Re-Certification Service in Canada or elsewhere in the world, please contact us.