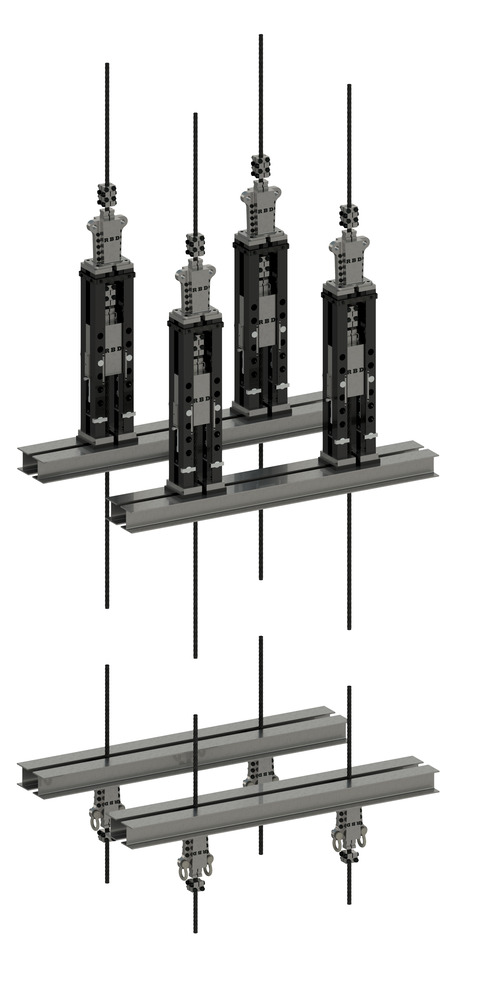 Guide Rope Attachments
CCM Tensioning Systems
The Reliance Barker Davies Close-Control-Monitoring (CCM) system is an exceptional method for suspending, tensioning and monitoring guide ropes or rubbing ropes.
Underground, each guide rope (or rubbing rope) is typically anchored using either a gland or lug affixed to the shaft-bottom steel. In the headframe, each rope will have a CCM tower directly above its position.
Each rope is suspended within the CCM gland that is fitted inside the four CCM tower columns. The CCM gland may be lowered or raised using a pair of hydraulic cylinders to achieve the desired rope tension.
The CCM gland rests on top of two load-cell pins that evenly support the full load of the suspended rope in addition to the applied rope tension. The load-cell pins produce an accurate reading in real time so that the rope tension can be adjusted accordingly. The load-cell outputs can be wired into the mine's PLC system and can be monitored remotely.
The top "temporary" gland is used to "leapfrog" the CCM gland until the desired rope tension can be achieved. The entire tensioning process can be completed quickly and without having to enter the shaft compartment.